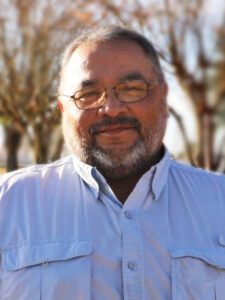 Johnny Ramos Martinez, Jr. was born and raised in Dallas, Texas. He is married to Candance since November 7th, 2009 and together they have five Dachshunds: Boscorelli the Killer (17), Lala the Mighty (11), George Castansa (9), Sofia Loren (9), and Bruce Wayne (3). In 2015 he moved to Lake Athens, Texas. He is a Fly-Fishing enthusiast and part-time fly-fishing guide and instructor. He has won two Fly Fishing tournaments, placed second twice, and finished last numerous times. Currently Johnny holds the record for Large Mouth Bass caught on a Fly Rod on Lake Athens. He enjoys tying the flies used to fish.
Johnny produces and hosts an annual Fly-Fishing Festival on Lake Athens that benefits Project Healing Waters (serving Veterans) and Casting for Recovery (serving breast cancer victims) and is also a certified fishing instructor and Area Chief with Texas Parks and Wildlife.
His primary lake is Athens, but he also travels to fish many of the East Texas area lakes, Texas gulf coastal waters, and rivers in Colorado, Arkansas, and Oklahoma.
With his wife, Candance, he enjoys going to movies, sitting by the fire pit in the evenings, listening to music, cooking, home remodeling, and traveling. He hopes to see you on the water!