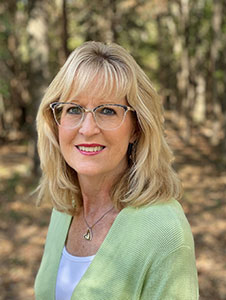 Carol is a native Texan and a graduate of Texas A&M University with a Bachelor of Business Administration in Business Analysis. After several years in corporate America as a Technology Manager with ExxonMobil and Southwest Airlines, Carol and her husband, Darryl, decided in 2008 to slow down the pace and build on their "little piece of heaven" in East Texas. She was offered a job by their builder, Glory Builders, Inc., and has enjoyed a 13 year partnership in the local residential home building industry.
But God had a different direction planned for Carol. In January 2022, Carol became an advocate for a young lady with IDD from her church who had lost her primary caregiver. Through the blessings of helping this young lady, God opened Carol's heart to this amazing population of loving individuals. This position at Breckenridge Village kept popping up and Carol got "the message". She is humbled to have this opportunity to serve the wonderful residents of BVT and work in a Christ centered environment. She gives God all the glory for His amazing grace!"
Carol is active in her local church, serving as Children's Church Director. In her spare-time she and her husband enjoy entertaining family and friends at "Stark Acres" where there is fishing, 4-wheeling, hiking and simply enjoying all of God's beautiful creation.