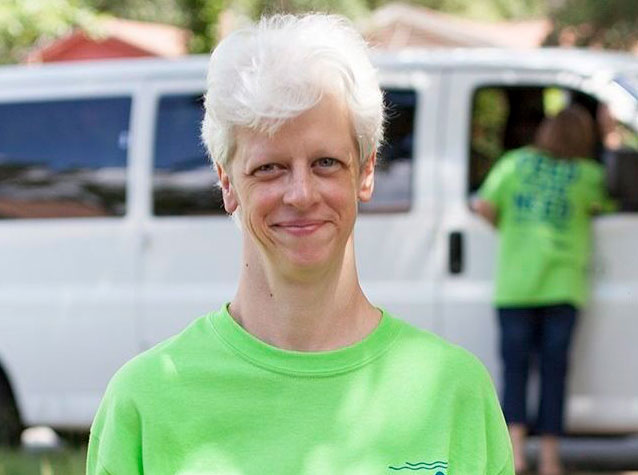 Jennifer stared death right in the face. Doctors gave her a frightening diagnosis and the odds were against her. But this story has a happy ending…Jennifer triumphed.
Like many of her friends at Breckenridge Village of Tyler, a residential community serving adults with developmental disabilities, Jennifer faced challenges her entire life. But when she was faced with a life-threatening illness, she knew this would be a fight like none other.
Jennifer, a BVT resident of 12 years, has always had a compassionate heart that's evident in everything she does. Every day, BVT residents deliver Meals on Wheels to the elderly and disabled in the East Texas area, and most days Jennifer volunteers to help. She takes joy in sharing hot meals with people in need in the Tyler community.
One day, after completing their Meals on Wheels route, Jennifer approached a BVT staff member and said, "You know, if it wasn't for people like us, those people would not be able to eat!"
Her keen ability to recognize the importance of helping others, and seek to be involved wherever possible, has made her one of the most compassionate and active members of the BVT community.
But her passion extends way beyond fulfilling the needs of the elderly and disabled. Jennifer approached another BVT staff member one day with a sincere concern that had been placed on her heart. "I'm tired of animals being abused," she said. "I want to do something about it." Knowing that her resources were limited and she was "only one person," she knew she had to be creative in her methods to prevent animal cruelty. But that wasn't going to stop her.
She came up with the idea of a petition, asking people to promise to never abuse animals and to always provide their pets with food, water and vaccinations.
Since launching "Jennifer's Pet Project" in the summer of 2012, she obtained about 300 signatures from pet-owners and animal-lovers alike, pledging to end animal cruelty and to always provide quality care to their pets. She has made a difference in the lives of animals with a simple proclamation that inspired and moved others to action.