You know that saying "It's a God thing"? Well, there are so many "God things" over the course of the life at BVT that it has become difficult to keep track of them all. It is my full intention to one day sit down and write an account of each of the ones I have been involved in for future recollection. Sometimes, it's the "little" stories that have some of the biggest impact on us.
Here's just one "God thing" that occurred this last month…
As you know, BVT has touched the lives of countless people over the last 23 years: the current residents who call this place their home, those who have called it home previously, and our day program attendees who rely on BVT for their continued social and life enrichment programs.
But too, the impact goes so far beyond just those directly served…including the families of the residents, the volunteers, the staff, the donors…all who have trusted, devoted, and have been touched by the ministry impact of BVT.
Then, there is one more group who is also impacted by BVT: the families of the staff who work here.
I have no doubt that the families of our staff can feel the passion and love that our staff exuberate in their daily lives. We say that when you come to work at BVT, it becomes engrained in who you are. There's something special about this place that makes us want to naturally share it with others. Our staff are walking examples of Christ's light in a dark and broken world. Their light shines wherever they go and it's hard for others not to notice. It's common for our families to share the same passion.
My children have created an annual tradition of holding a lemonade stand for our neighborhood each summer. They look forward to being able to bring a smile to another's face with the simplicity of lemons, sugar and water. And while they don't do it for the money, they certainly get a kick out of someone putting some change or a couple of dollars in their "tip jar."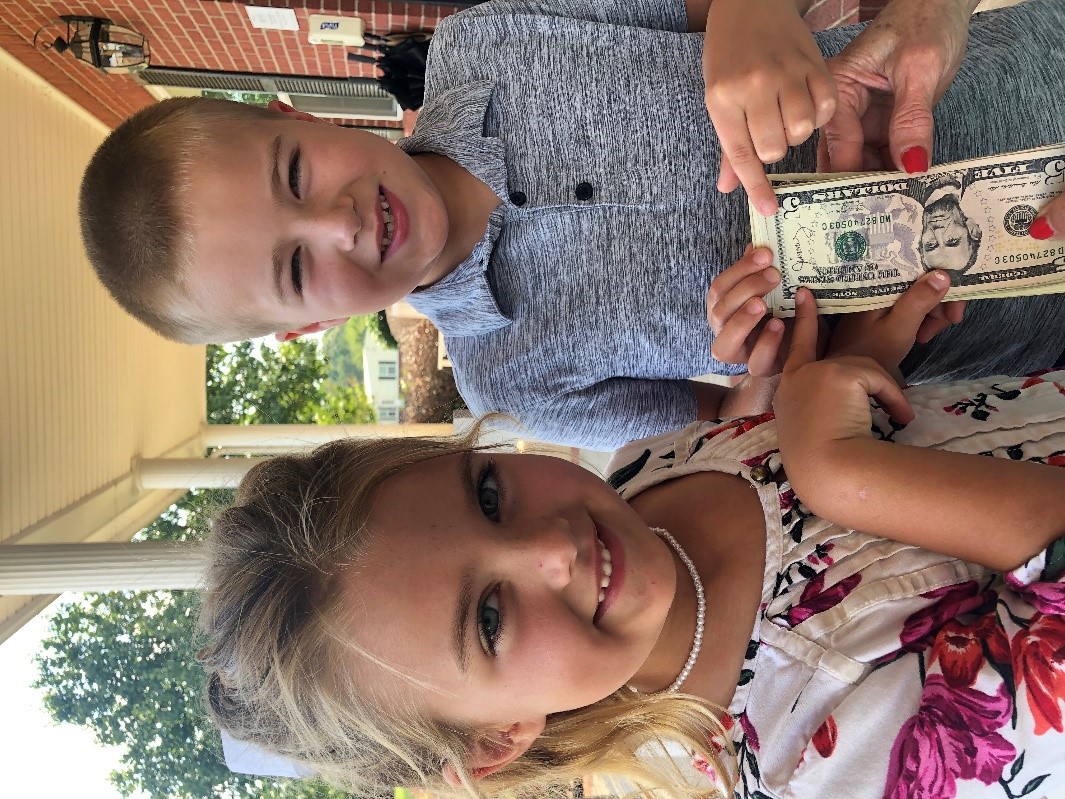 Following another successful lemonade stand this summer, as usual, the kids emptied their tip jar and proudly stacked the dozens of $1 and $5 dollar bills and loose change that others generously gave. For whatever reason, their lemonade stand this year was the most successful one yet.
Customarily, upon the closure of their annual "one weekend" enterprise, the kids gather a percentage of their earnings to give back to a ministry of their choosing. When asked where they wanted to give some of their money to, without hesitation
They said "Breckenridge." So, we gathered up a portion of the weekend's earnings and set aside for Breckenridge.
A week or two later, my wife brought the kids out to Breckenridge so they can personally hand deliver their gift to Linda Taylor. Linda sat down with the kids in her usual cheerful and energetic way to explain how their money goes to improve the lives of others and how impactful their gifts are to continuing the mission of BVT that was started long ago. Linda picked up some photographs of the residents and one by one told the kids how their money will impact each one of the residents named.