Dear Family and Friends:
I don't know if you're like me, but I worry. Especially about my children. I think that's a common denominator for all of us, but especially those of us who call themselves a "mom" or "dad". And I've been told worrying about our children doesn't always go away, no matter how much older our children become.
Worry if we're doing enough for them. Worry if we're making the right decisions as parents. Worry if they have the right influences in their life. Worry if we are doing enough to ensure they have the best chance at success. At least those are some common worries that I have as a parent.
Another concept I struggle with is just the notion of how fast time goes. I have a 7 year old boy and a 6 year old girl and I know one of these days when my children are older and out of the house how I will miss these times we're in right now…how they still believe in Santa Claus, how they're losing baby teeth, wrestling on the trampoline, and playing ball in the front yard. How fast time goes by.
At the start of 2020, my wife and I made a commitment to be more intentional with our family and to ensure that we acknowledge and recognize the moments this year that brought us joy. We emphasize to our children the importance of having the right attitude and perspective and how those things are choices. That we should not let our circumstances dictate our level of joy. Because joy can be had in the good seasons of life and in the difficult seasons of life.
I'm sure you've heard of Chuck Swindoll who once said, "Life is 10% what happens to me and 90% of how I react to it." I heard that quote a while ago and it's always served as a great reminder to me that I am in control of my attitude, my perspective, and my ability to have joy. Happiness comes and goes but true joy can survive just about any circumstance we are in. It's all about our perspective.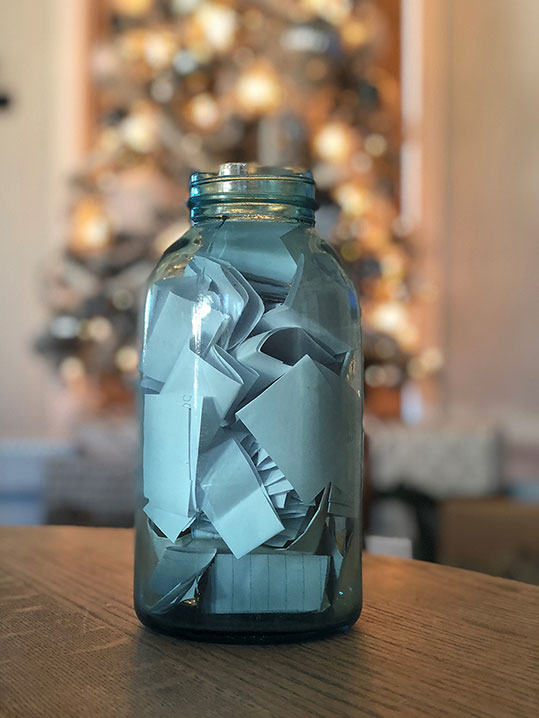 Last December, I saw where one of my childhood friends had a tradition in her family called a "Joy Jar." The idea behind the joy jar is to write down the little things throughout the day or week that you find joy in. Then on New Year's Eve, the family will get together and read the moments that they experienced together that brought joy throughout the year. I thought the idea was great, so our family too began our own tradition of the "Campbell Joy Jar" in January 2020. Little did we know at the time what would be in store for us in 2020.
Obviously, this was a very good year to start this tradition. Because throughout every trial, or long day, or during the times it felt like this year would never end, this jar sitting in our kitchen quickly filling up to the brim with pieces of paper – little memories – was a reminder to me of this very notion…the notion of having the right perspective.