20 Years of Magic Video Transcript – PDF Format
Our Story
When Robert and Jean Breckenridge discovered that their youngest of two sons, Jimmy, had Downs Syndrome, they began to speculate about the future. Jimmy would never be able to live on his own or take care of himself. How could they ensure he'd be safe and cared for when they were gone? They also began to think about all the other parents who were facing the same dilemma. Was there a way to help not only Jimmy, but some of the other children as well?
Robert and Jean began to dream of creating a home for adults with intellectual or developmental disabilities – one that was faith-based and provided a warm community of care for those that needed protection when their families could no longer care for them. Together, they purchased 78 acres near their home in Tyler, Texas to serve as the future site of the residential community they dreamed of. Then, without warning, the family lost both Robert Sr. and Robert Jr. in a short amount of time. Jean was overwhelmed with loss and heartbreak.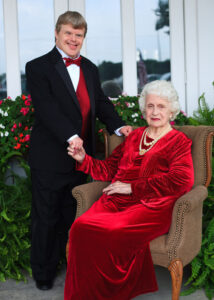 Even in the aftermath of her tragic loss, Mrs. Jean would not let their dream die. Her tenacity and strong will would not let her give up, and she approached Green Acres Baptist Church about the possibility of building a home for persons with intellectual or developmental disabilities. Dr. David Dykes then introduced Mrs. Jean to Mr. Kevin Dinnin, President and CEO of BCFS. Kevin was inspired by her vision and passion to make her dream a reality.
Mrs. Jean contributed her land, and under the leadership of Mr. Dinnin and the partnership of the Texas Baptist Men Retiree Builders (TBM), Breckenridge Village opened its doors to house adults with developmental disabilities in April of 1998. Thanks to Mrs. Jean's gift of love, BCFS, and TBM, the Breckenridge family's vision became a reality.
Through a very generous donation from the Rogers Foundation, consisting of board members Dr. Paul Powell, Sheryl Palmer, and Robyn Rogers, the addition of the beautiful Robert M. Rogers Chapel to the BVT campus was dedicated in April of 2000. This chapel was given to honor the life of Mr. Robert M. Rogers.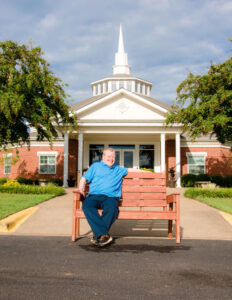 BVT has provided services to hundreds of individuals with developmental disabilities, all of whom had families who were at a loss to take care of them. BVT continues to be a beacon of hope to families from across our state and beyond.
Breckenridge Village of Tyler Video Transcript – PDF Format