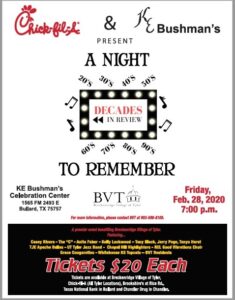 A Night To Remember 8.5X11 PRINT
Pull out your poodle skirts, flapper gowns, or bell bottom jeans to go back in time to enjoy music from the 20's to the 90's as we rewind the sights and sounds of the decades.  On Friday, February 28, Chick-fil-A Tyler and KE Bushman's will present BVT's 11th Annual A Night to Remember – Decades in Review.  This musical extravaganza begins at 7:00pm at the KE Bushman's Celebration Center and is a premier event benefiting Breckenridge Village of Tyler.
The night promises to be a huge success thanks to the support of our sponsors, Chick-fil-A Tyler and the de Wet family of Kiepersol.
Under the direction of Penny Burdette, A Night to Remember will feature the talents of The "C", Anita Faber, Kelly Lockwood, Tony Black, Jerry Page, Tanya Hurst, the TJC Apache Belles, the UT Tyler Jazz Band,  the Chapel Hill Highlighters, the REL Good Vibrations Choir, the Grace Cougarettes, and the Whitehouse HS Topcats. The highlight of the evening will be the BVT residents sharing their talents with all in attendance.
Popcorn, compliments of Brookshire Grocery Company will add to the total ambiance of this fun-filled evening.  Whether you are re-living the sights and sounds of decades gone by or experiencing them for the first time, this will definitely be A Night to Remember.
Tickets are $20 each and available at Chick-fil-A (all Tyler locations), Brookshires (Rice Road), Chandler Drug (in Chandler), Texas National Bank (in Bullard) and Breckenridge Village of Tyler.  All proceeds benefit the BVT scholarship fund.  For more information, contact Linda at Breckenridge Village at 903-596-8100.
#####
KE Bushman's Celebration Center, 1565 FM 2493 E, Bullard, TX 75757
For tickets or for more information please contact Linda Taylor at 903.596.8100 or ltaylor@BreckenridgeVillage.com .